I thought I'd seen it all when it comes to water butt design, but I came across two products this week that proved me wrong.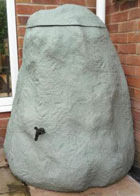 The Rock water buttFirst was the Rock water butt. I have no idea why anyone living outside, say, Yosemite would want a water butt that looks like a reject from the set of an early Star Trek episode, but I'd love to know if you have one of these in your garden. Then came the Lily Ecoseat butt – yes, it's a water butt you can sit on. Theoretically it's a bit more useful, but really, who wants to sit under a drainpipe?
Back in the day water butts were made of green plastic or a rustic wooden barrel if you were posh. Now you can buy butts that look like tree trunks, Greek amphoras, gothic buildings, Roman columns and even water features.

The Lily EcoseatBut assuming that you're happy enough to have a water butt that looks like a water butt, there are some other considerations. In small gardens, butts can take up a lot of space: I have two of these wall-mounted water butts which work well, although their capacity isn't enormous.
If you want to save money and the environment, you can convert a wheelie bin into a water butt, and heavy-duty blue industrial food barrels are a popular choice as make-do-and-mend butts on allotment sites.
What are you looking for when you buy a water butt? Large storage capacity, good looks or value for money? Share your water butt wisdom below.